JED STONE is the Comedy Act for all seasons. 'Cheeky', 'Zany', and 'Crazy' are just a few of the adjectives used to describe this talented and versatile entertainer. Whatever the occasion, large or small, from a full scale Ball to a Pub night in the Club, JED will provide that special touch to turn any evening into a night never to be forgotten.
As a Compere Comedian there is none to touch him. Add the icing to the cake at your Summer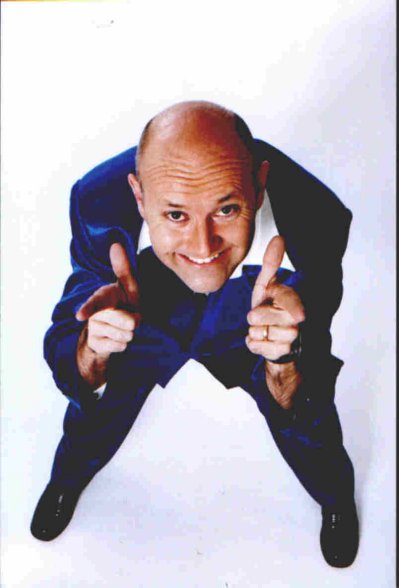 or Christmas ball to ensure that your major night out goes like a dream. His sheer professionalism and style combined with his own totally unique sense of humour will flow throughout the evening linking the show together giving it that touch of class that every one seeks, but few achieve.
Alternatively, treat your mess to a night of craziness and mirth. Linked with one of our Top of the Line Quality Disco Roadshows, JED will provide a cabaret night with a difference with two full sets of some of the best entertainment around. An opening set of pure Comedy, full of quick wit, hilarious stories and 'naughty but nice' observations on life will have the place in stitches. Following this with a full forty five minute set combining the best of comedy and fun with music. JED uses his well earned experience from his days as lead singer with 'Scholar' and his superb singing voice will take you through the musical spectrum from Classic oldies, beautiful ballads and culminating in a rousing Singalong with all the popular favourites .
Ever versatile, JED STONE can be confidently booked for just about any function, from a Stag night to a Ladies Night, Regimental dinners to Pub and Fun nights. With his immense versatility, undoubted talent and extremely likeable personality JED STONE is Simply the Best Comedy Entertainer to appear in Germany !!
EXCLUSIVE TO STARFIRE!!!