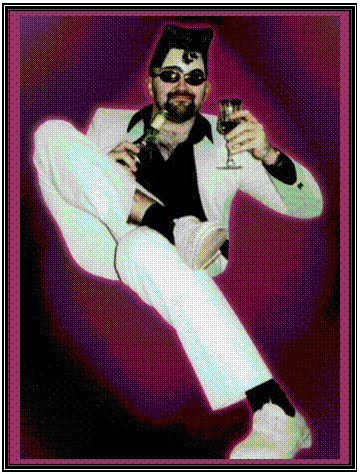 Welcome to the Crazy, Crazy World of Comedy as viewed by KURTIS KING. Hailing from the northern climes, Widnes in particular which is just outside the spiritual home of all Comedians, Liverpool , this talented and funny guy is currently wowing audiences the length and breath of the UK .
KURTIS KING began his career as lead singer/ front man & general nutcase with the widely successful Showband, ZOO. 3 years ago he ventured out on his own and fast earnt himself a reputation for quality entertainment guaranteed. He is in great demand in a variety of venues and can be found amusing audiences as diverse as Butlin & Pontin holiday goers, corporate types at a whole host of venues and the military members around the UK .
With his own zany mix of cheeky stories, naughty gags and superb vocals, KURTIS is fast becoming one of the Top Comedy Entertainers around. Add to this his talent for After Dinner Speaking which he has gained after appearing with George Best (Sober), Nobby Stiles, Sir Jack Chalton plus many more and his awesome vocals make this guy a force to be reckoned with. Whatever your function, add a touch of Klass with the one and only KURTIS KING.