Exclusive to STARFIRE , we are pleased to announc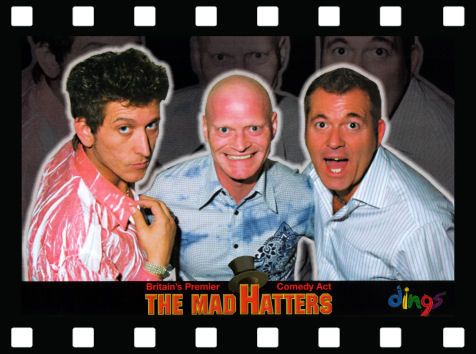 e that the most popular comedy showband to ever tour Germany are back. To treat your mess to a night that they will never forget, contact us today to check availabilities!! But beware, The Hatters reputation proceeds them and we only have selected dates left as their tours is fill up Fast!!
Although THE MAD HATTERS have been performing as an International Cabaret Act for over 15 years, they most definitely are not old hat!! These well known, extremely talented threesome are Gary, Mark and Scott, who between them are forever working on new ideas and original slants on Comedy. Living virtually next door to each other and they long standing friendship of over 20 years is reflected in there slick and excellent timing whilst on stage, whilst their many varied talents all combine to create a hilarious Cabaret show which will please the most discerning of audiences, regardless of age or creed! THE MAD HATTERS have the enviable reputation of being one of the most reliable and professional acts in the country which is why they are know as 'Britain's Premier Comedy Act'. Their show is a full 60 minutes of fast moving, highly visual mayhem. Their crazy impressions, wacky ad-lib comedy and musical parodies all unite to generate a comedy experience once seen, never forgotten!
E-Mail: sue@starfire.tc